The football journalism I do can broadly be divided into three categories.
European match reporting: I cover matches in the Champions League, the Europa League and the European Championships for UEFA.com. For the club competitions involves going to the matches and writing a report that is published on-line as soon as the match is finished, and then afterwards interviewing players and putting together a review based on what they say. These interviews are also filmed and put on the website alongside the written story. See here
,
here
and
here
.
In 2014 I was lucky enough to have exclusive interviews with two of the greatest-ever exponents of the game, past and present; Johan Cruyff and Lionel Messi. I did them in Dutch and Spanish respectively.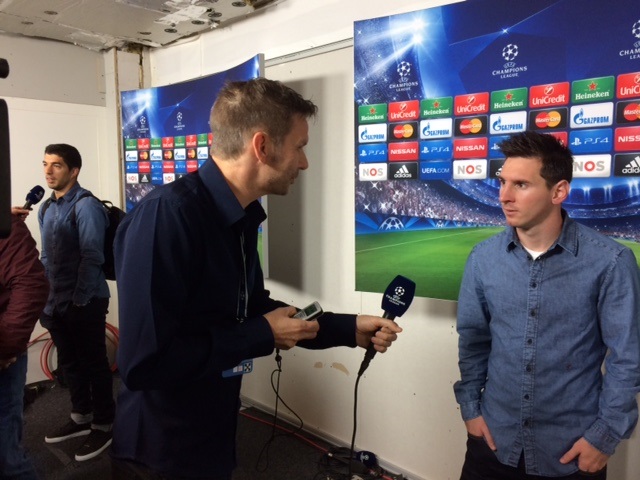 This is my 12th season. I usually cover Dutch clubs (Ajax, AZ Alkmaar, PSV, FC Twente so far) but also work at matches in Belgium, Germany, France and Romania.

At Euro 2012 I was based in Kharkiv as a TV reporter. Absolutely wonderful. Read about that

here

.
For Euro 2016 I was the UEFA reporter for the Belgian national team.
Writing on Dutch football: I contribute several articles each year to When Saturday Comes about various aspects of Dutch football. This is not directly match-related, but it's to do with other issues such as proposed club mergers, league restructuring, threats to football journalists or the fortunes of a particular club.
I've also done a fair bit of stuff on the Dutch team at the European Championships and World Cup. Here's an

example

. And I write now and then for the WSC

website

.
BBC Radio Scotland: I was a regular guest on the BBC Radio Scotland programme 'Chick's World of Football'. Usually live on air, I'd talk about what was going on in the Netherlands (and sometimes in Belgium). The show was broadcast on Tuesday evenings and was also available on the BBC iPlayer.